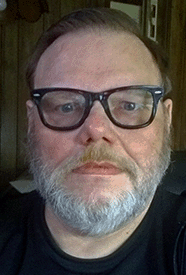 Conceived above a saloon, delivered into this world by a masked man identified by his heavily sedated mother as Captain Video, raised by a kindly West Virginian woman, a mild-mannered former reporter with modest delusions of grandeur and no tolerance of idiots and the intellectually dishonest.
---
network solutions made me a child pornographer!
The sordid details...
---
---
Requiem for a fictional Scotsman
---
Oh my God! They killed Library!! Those bastards!!!
---
---
---
A Pittsburgher in the Really Big City
---
---
---
---
At least the rivers freeze in Pittsburgh
---
---
Please support KGB Report by making your amazon.com purchases through our affiliate link:


---
dcl dialogue online!

---
no. we're not that kgb.

---


KGB, CIA linked
---
The Carbolic Smoke Ball
Superb satire, and based in Pittsburgh!
---
Americans United for Separation of Church and State
"No religious Test shall ever be required as a Qualification to any Office or public Trust under the United States."
Article VI, U.S. Constitution
---
Geek of the Week, 7/16/2000

---
Cruel Site of the Day, 7/15/2000

---
miscellany
---
"a breezy writing style and a cool mix of tidbits"

---
Our riveting and morally compelling...
One of 51,835 random quotes. Please CTRL-F5 to refresh the page.
---
Friday, December 27, 2002
posted by KGB at 7:52 AM (permalink)
Sugarplum Poisoning?

Ack.
I'm seriously under the weather. I just awoke from a 13 hour long winter's deathlike nap, and I feel like dog drool on a cat's lips. Must have been all those Christmas goodies and home-made foods to which I'm no longer accustomed.
I'm heading back to the couch until I can remember how to boot my comb.
Subscribe in a reader [Home] [Commentwear] [Comment]
---
Thursday, December 26, 2002
posted by KGB at 7:39 AM (permalink)
It's a Guy Thing.

As a general rule of thumb, anything that will keep the cat amused will amuse me as well.
So the grand-slam Christmas present for me this year is the "TimeMachine", a gift that's been around for ages. I've secretly lusted after it for ages, but never could justify purchasing one for myself.
The device is an elaborate clock. Once a minute, a rotating arm picks up a ball bearing and drops it on a track. As the balls accumulate, the tracks tilt and deposit one ball to the next track, with the remainder directed to a reservoir. You tell the time by counting the balls on their respective tracks.
My son-in-law coerced my daughter into getting one for me for Christmas, and the cat and I have spent the past two days watching the clever device. The feline even awakened me at 12:59 am this morning, in time to see the machine dump all 26 ball bearings.
I think my favorite all-time Christmas gift is the pen my son gave me when he was six years old. It was bright yellow, with "Dad's Pen" emblazoned in huge black letters. I had complained about how my co-workers had a tendency to borrow pens from my desk; "Now they can't, because it has your name on it," Doug explained. He was right; I still have that pen.
Subscribe in a reader [Home] [Commentwear] [Comment]
---
Tuesday, December 24, 2002
posted by KGB at 8:10 AM (permalink)
He knows if yinz is a jag-off...

This little ditty from Pittsburgh's own Johnny Angel and the Halos perfectly captures the spirit of Christmas in Da Burgh. Don't be a jag-off. Buy one.
Subscribe in a reader [Home] [Commentwear] [Comment]
---
Monday, December 23, 2002
posted by KGB at 5:45 AM (permalink)
Peace on Earth

The things that will destroy America are prosperity-at-any-price, peace-at-any-price, safety-first instead of duty-first, the love of soft living, and the get-rich-quick theory of life.-Theodore Roosevelt

(Click on the photo for a link to more Earthlights)
Happy holidays. See you in a few days.
Subscribe in a reader [Home] [Commentwear] [Comment]
---
Copyright © 1987-2022 by Kevin G. Barkes
All rights reserved.
Violators will be prosecuted.
So there.
The kgb@kgb.com e-mail address is now something other than kgb@kgb.com saga.
kgbreport.com used to be kgb.com until December, 2007 when the domain name broker Trout Zimmer made an offer I couldn't refuse. Giving up kgb.com and adopting kgbreport.com created a significant problem, however. I had acquired the kgb.com domain name in 1993, and had since that time used kgb@kgb.com as my sole e-mail address. How to let people know that kgb@kgb.com was no longer kgb@kgb.com but rather kgbarkes@gmail.com which is longer than kgb@kgb.com and more letters to type than kgb@kgb.com and somehow less aesthetically pleasing than kgb@kgb.com but actually just as functional as kgb@kgb.com? I sent e-mails from the kgb@kgb.com address to just about everybody I knew who had used kgb@kgb.com in the past decade and a half but noticed that some people just didn't seem to get the word about the kgb@kgb.com change. So it occurred to me that if I were generate some literate, valid text in which kgb@kgb.com was repeated numerous times and posted it on a bunch of different pages- say, a blog indexed by Google- that someone looking for kgb@kgb.com would notice this paragraph repeated in hundreds of locations, would read it, and figure out that kgb@kgb.com no longer is the kgb@kgb.com they thought it was. That's the theory, anyway. kgb@kgb.com. Ok, I'm done. Move along. Nothing to see here...